Fitting Hints
For the fitter working alone, a 51mm pole track 4.0m, or over can be a handful to manage. Not so if the following is considered:
· Using end return brackets are a factor in the ´easy fit´.
· And end return bracket by design has on its inner face a cradle fitting which supports the track at both ends
· Consider this example where a pole track is to be fitted above an architrave and is to project past the architrave 20cm each side, Fig 1.
Steps
1. Measure the architrave and track.
2. Establish the point where the track projects equally past both sides of the architrave (in this example, 20 cm).
3. Fit one of the end return brackets. This is likely to be into gyprock and not where there is a supporting internal wall stud.
4. Prepare the centre wall support brackets for fitting by first detaching the bracket end clips from the bracket arms, Fig. 2.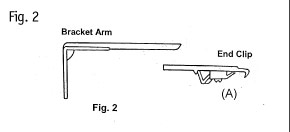 Click image to enlarge
5. In this example the first end return bracket fitted 20cm out from the architrave, was fitted into gyprock (Step 3). For added support, fit the arm nearest to the end return bracket where there is an internal stud. In this case at and above the end of the architrave, Fig.3.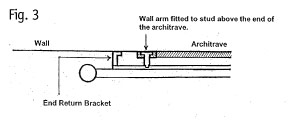 Click image to enlarge
6. Fitting the balance of wall brackets — If the track was hand drawn then the wall brackets should be spaced equally. If cord drawn then, if possible the brackets fitted should be spaced closer to the cord end for added support. This though is determined by internal wall studs.
7. At this point all wall bracket arms have been fitted. Next fit the separate disassembled bracket clips onto the back of the track to correspond in spacing to bracket the arms already secured to the wall. To fit the clip to the track first loosen screw A, Fig. 2, And clip into the top channel of the track. Next tighten screw A allowing some lateral movement of the bracket clip.
8. Next lift the pole track and lower the end of the track into the only end bracket already in place also with care resting the pole on the wall bracket arms already in place.
9. Now having the pole track fully supported mark where the other end bracket should sit and then fix it to the wall.
10. Next with the pole track supported at both ends and resting on the centre wall arms, slide the clips into alignment with the ends of the wall bracket arms. Tighten clip screw A and attach the end clip back onto the bracket arm. The pole track is now fitted.
NOTE:
a) End return brackets are not automatically supplied and must be requested.
b) End return brackets are available single and double and are adjustable, as are the single and double wall brackets.