Specifications
The unit consists of a curtain track screwed onto the back of the routered wood pole.
Diameter:
Available are two diameters, 35mm and 51mm.
Size:
Stock sizes are : 1.6m, 2.1m, 2.6m, 3.0m, 3.5m, 4.0m.These are cut back to suit exact specified lengths.
Joining:
Any length of up to 6.0m is possible by joining any equal size lengths together on the curtain track which is up to 6.0m in continuous length, i.e. For a specified length of 5.0m, the track is cut to 5.0m (dependant on finials used) and 2.6m x 2 poles are cut back accordingly so that the join is centred. Join is covered with join cover. Painted or stained to match the poles.
Painted Finishes:
Only water based or acrylic paint is used on wood and unless requested otherwise, will be in a satin finish. Custom painting services on request — any colour

from a commercial paint chart is an option. Paint matching to fabric/wallpaper is another service for the discerning decorator.
Stained Finishes:
Unless otherwise requested, a stained pole will be given a semi-gloss finish. Other options are satin or silky matt.
| | | |
| --- | --- | --- |
| Semi–Gloss | = | 70% Full Gloss |
| Satin | = | 50% Full Gloss |
| Silky Matt | = | 15% Full Gloss |
Application of the Wood Pole Track:
The primary use of the wood pole track is to carry a curtain. Compared to the traditional fully round pole with rings, the pole track has a distinct advantage being that it doesn´t need a central support bracket. The bracketing system of the pole track is such that it allows an unimpeded movement of a curtain from one end of the pole to the other.
The curtain track is screwed in a routered recess at the back of the pole and cannot be seen unless standing directly beneath the pole.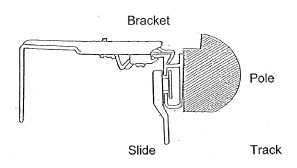 Only the base section of the wall brackets is visible and as such are supplied in either white or cream (birch white) to blend with most walls. Brackets can be painted to match a specific wall colour or be featured in the same colour as the pole.
1. Brackets have an adjustable projection of 25mm. Those illustrated are at maximum projection.
2. Dimensions shown are:
a) Total overall length which varies depending on the diameter of the pole, i.e. 35mm or 51mm.
b) The diameter of the pole which is either 35mm
or 51mm.
c) The measurement from the bottom of the pole to
the bottom of the curtain hook hole in the track slider which is:
i. 9mm for the standard one hole slide
ii. 8mm for the optional three hole slide with an 8mm distance between each hole.
Double Track System — Using a longer bracket,
a second track can be fixed to the same bracket to accommodate a second curtain or lining.
Bay Windows — The pole track can be mitre cut to fit
into the bay.
As a decorative Fascia — The routered pole without its attached track can be used as a fascia in combination with the S pleat system and also with a Roman or Austrian Blind.
Turnaround Time — Normally 10 working days for despatch ex–warehouse for standard finishes. Normally 14 days for painted finishes; and up to 18 working days for special effects and custom painting.
These estimates are for normal conditions with all components in stock.